All the major systems and components are designed to be very accessible. The junction box features a large opening for convenient access and contains the entire electrical system. The electrical connections are completed through the use of a unique terminal board. Housed underneath a stainless steel cover, the motor, pump, and water system are centrally located inside the main chassis.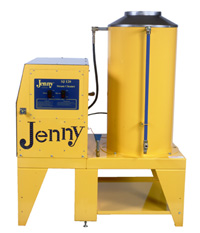 Since revolutionizing the cleaning industry in 1927, Jenny has built upon a reputation of producing only the highest quality cleaning equipment. In doing so, we use only the best available motors, pumps, electrical and gas components. Every machine is extensively tested against our quality standards to ensure that it will withstand years of rugged use.
In the design and construction of our equipment, only the highest and finest quality materials and components are used throughout the machine. This includes the heavy-duty, industrial/commercial electric motor to the high performance belt-driven, triplex, ceramic plunger pump to the specially designed Natural or LP gas combustion chamber, heating coils, and gas control valves. The electronic gas ignition system, which is standard to all Jenny gas fired machines, is specially designed for these type machines.

The specially designed gas fired machine's 10 gauge frame is a rugged, powder coated, modular chassis and guaranteed with a 5 year limited warranty. All major components of the machine are modular in design and made to bolt directly to the chassis. The units all come standard with a stainless steel machinery cover, float tank, and coil casing cover.

The 24 Volt Intrinsically Safe Control Voltage is the first of many standard safety features. The machines also feature Nozzle (or Trigger Gun) Control, Over Pressure Protection, High Temperature Protection, and a Ground Fault Circuit Interrupter (Single Phase Units Only).